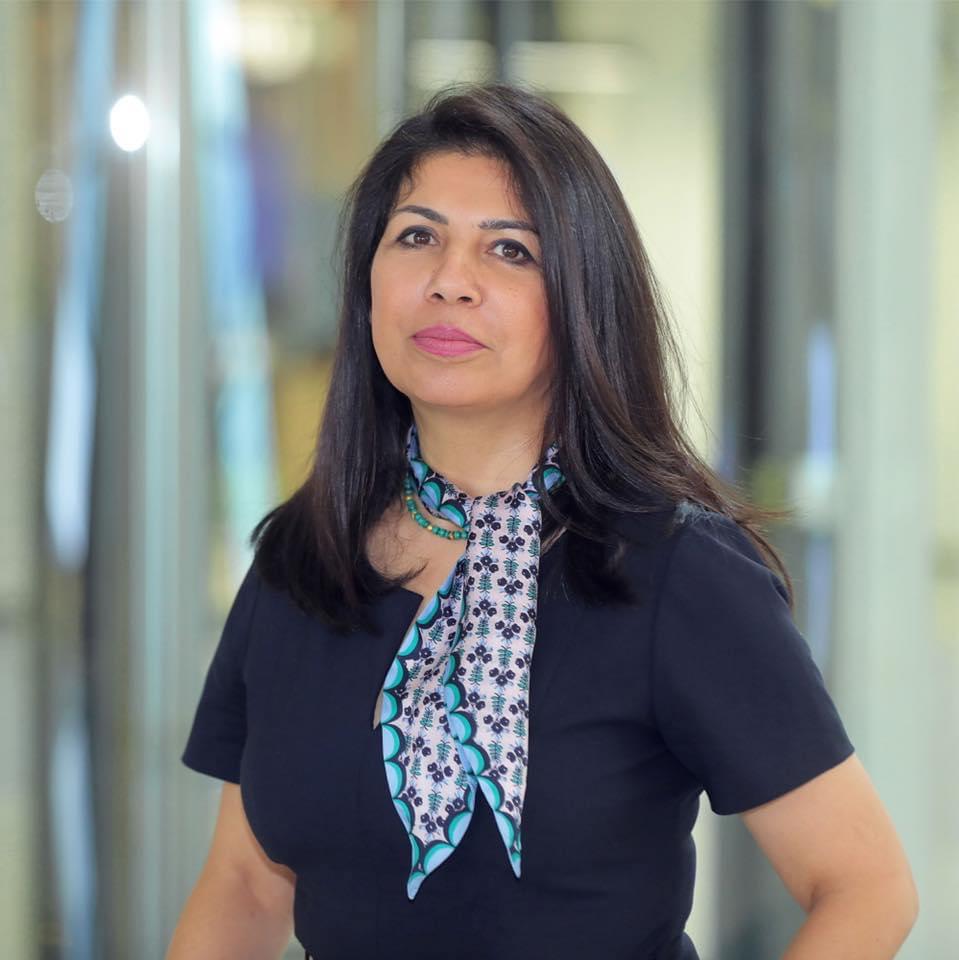 Hadeel A. Hasan
Founder & Managing Partner
Iraqi Bar Association
Iraqi Jurists Union
Woman of the Year 2019, MENA Region by EY
Former Chair of the US- Iraq Dialogue Committee for the development of the private sector
Executive Committee member of the Iraqi British Business Council
Member of the Steering Committee at the Private Sector Development's Centre sponsored by the World Trade Bank
Member of the Steering Committee at the Ministry of Industry and Minerals for the formation of Iraq Industrial Strategy
International Business Council of Iraq
Born into a family highly esteemed for their accomplishments in law, Hadeel was inspired at a young age to pursue the legal practice. Eventually, to build one of the most successful law firms in Iraq, Hadeel began at the bottom and has worked for the past two decades to create a strong network based on respect and trust.
Through her many years of experience, Hadeel has become an expert in international regulations and has extensive experience working in civil and corporate law in a wide variety of industries. She is currently ranked as one of the top Iraqi attorneys and has incredible success records of favourable verdicts and settlements in legal consultancy and Civil and commercial litigations.
Building good relationships at all levels
Diplomacy
A savvy negotiator with expertise mediating disputes as well as providing winning solutions that accommodate all parties involved
Excellent business acumen with the ability to provide oversight and manage complex projects
Extreme attention to detail, legal documents, and correspondence are drafted to perfection with all aspects of the situation, and possible outcomes are taken into consideration
Fine-tuned interpersonal skills, which enable her to promote business development, staff motivation, and a positive working environment
IT Skills: Impressive skills dealing with standard operational programs and operators such as the Microsoft Suite, accounting S/W's, and other programs due to work
Languages: Arabic /native speaker (Reading, writing, and speaking), English /fluency (Reading, writing, and speaking).
Founder and Managing Partner, Al HADEEL Al HASAN Law Firm LLC (HHL) – 2016 – Current
Five years later, expansion needs arose due to successful representations, tremendous performance. The legal office has transformed into an LLC with four offices located in Bagdad, Basra Erbil, and Amman. Hadeel has successfully managed to provide her clients with a local network of representation lawyers covering every province in Iraq.
Founder and Managing Director, Hadeel Abdulameer Hasan Law Office – 2011 – 2016
With extensive hard work in the first year, Hadeel has managed to be the local lawyer for large well-known international law firms and companies within Iraq; managed to achieve many titles and created one of the most successful law offices quickly.
Manager, Al Tamimi Law Firm/ Baghdad Branch 2008 – 2011
Re-opened Al- Tamimi Baghdad
Appointed as Al-Tamimi/Iraq Office manager in less than a month after joining the firm
Providing legal consultancies and services to the largest and the most well-known international companies in Iraq
She gained extensive experience concerning local and international laws covering taxes, customs, employment, insurance, contracts,
Representing clients with Iraqi Ministries and Institutions
Drafting and reviewing contracts totalling several billion USD, bidding, establishing a legal presence in Iraq,
litigating on behalf of clients and all other legal services
Fostered business relationships with key decision-makers at Iraqi ministries and governmental bodies
Manager, Meyer-Reumann for legal consultancies
Managing Meyer-Reumann Law Firm/ Iraq – Vice President, Al-Mazd Group
Associate Lawyer, Auss Younis law office
Trainee, Dr Abdulameer Al- Junaih Law Office
Administrative Manager, Iraqi Atomic Energy Commission
Ms. Hadeel Hasan
Ms. Hadeel Hasan holds a degree in Statics from Al-Mustansiriya University and received a law degree from Baghdad University; she is currently a master's student at Coventry University in London.  Her practice has included being a legal advisor for many multinational, large, and well-known companies on many issues.  She is very familiar with international rules related to contracting, business principles, and practices. Through her long experience, she has gained an extensive background in civil and corporate law and ranked as one of the top Iraqi leading attorneys, with superb success records of favorable verdicts and settlements in legal consultancy and both civil and commercial litigations in Iraq.
Oil & Gas: deep familiarity with the Iraqi legal system concerning oil & gas operations, contracting, licensing, permits, registration requirements, international practices of subcontracting, dispute settlement locally and internationally, in addition to the experience of the current oil and gas sector environment and challenges.
Reviewing a Petroleum Distribution Agreement (major IOC – Iraq) to ensure compliance with Iraqi legislation.
Researching and analyzing Iraqi legislation for the provision of legal advice to IOCs concerning oil and gas law, company law, environment law, insurance law, labour law, and procurement law.
Working on several contractual documents about super-giant fields in Iraq (Producing Field Technical Service Contracts, Crude Oil Transfer Agreement, the establishment of a Field Operating Division, transfer of operatorship matters, etc.).
Advising concerning the major terms of the Iraqi Producing Field Technical Service Contracts (PFTSC) and the Development and Production Service Contracts (PDSC).
Advising an IOC operating in Iraq on the implications and actions to be undertaken regarding a possible oil spill, including notifications to be made and remedial measures and timelines.
Advising a major IOC operating in Iraq in respect of applicable environmental legislation relevant to the Hammar Marshlands
Construction: advising on issues related to construction fields investment projects.
Telecommunication: corporate matters and issues related to tendering with the Iraqi government and advisory on Iraq's regulatory procedures.
Insurance: advising on several aspects of the Iraqi Insurance Law and its application in practice, including required licensing by the Insurance Diwan and rights of the Iraqi National Insurance Company.
Banking: undertaking litigation on various matters against including bank guarantees and all forms needed for banks' setup.
Expert Witness: Ms. Hadeel acted as the Expert Witness and made an in-person attendance in the DIAC arbitration Case No. 183/2016 seated in the Hague. The Law of the Contract is English Law. Still, she advised from a procedural Iraqi Law perspective concerning the effect of those procedures on the Contract implementation and identifying the cause of dispute between the litigants.
As a conclusion to the attendance of Ms. Hadeel, an award was issued by the tribunal adopting the testimony of Ms. Hadeel against the other testimony presented by another Iraqi attorney.